The Ferrari 348 appeared in the late 80s, after the death of Enzo Ferrari, amid infighting for his succession. Sometimes considered unloved, the Honda NSX having wronged it after its release, it brought joy to its owners. They love its little Testarossa look and its unassisted steering feel (last Ferrari without power steering or controlled suspension).
What should you know about the Ferrari 348 before buying one? The best is to request the return of experience of an owner. Matmatlr is a member of Ferrarista.club who has the pleasure of driving his Ferrari 348 for a while.
Franck : Hello Matmatlr, what is, quickly, your automotive journey and why did you choose the Ferrari 348?

Matmatlr : Hello Franck, my passion for sports cars goes back to childhood and I have always had a weakness for Italian cars, their design, sportiness and faults that make you love them so much. After my studies, and when I thought to acquire my first car, I went abroad for work where I could not drive. So I waited for six long years and my return to Paris. I took the opportunity to splurge on a Porsche 911 3.2.

I continued to watch the Ferrari 348 for their look and their old behavior! I also watched the Ferrari F355 but I thought their lines were too angular. I grew up with the lines of the Ferrari Testarossa and thus the Ferrari 348 was required!

Franck : What were your criteria for buying a Ferrari 348 and how did you get this copy ?

Matmatlr : The criteria were many: I wanted a Ferrari 348 TS, rosso corsa, black seats and red carpets. Of course with books and invoices and in very good state! I followed the market for a while when I found my happiness with a Ferrari dealership. No luck when I called, it had just been sold to Jean Marc (Roadking).
By the time he presented himself on the forum,I told him to think of me if one day he wanted to part. This happened about six months later. I have been to see the car and have confirmed the purchase on the day of my 30 years.

Franck : Immediately after purchase, what did impress you the most about your Ferrari 348?

Matmatlr : Many things surprised me compared to the 911 that I had to sell. Firstly, the indescribable aura of the Ferrari 348 from other motorists. I lost count of the Thumbs Up and friendly signs!

On the driving part, everything is faster, the chassis is excellent, it turns flat, the steering is very precise and center of gravity is very low. Of course revving is accompanied by the V8 symphony and have nothing to do with those of the Flat 6, reminiscent of a tractor engine.

The Ferrari 348 is an excellent antidepressant. We forget everything at its wheel!

Franck :  Looking back, what are the good points of your copy of the Ferrari 348 and have you encoutered any problems or defects?

Matmatlr : I must say that I have not encountered any problems since I am its owner. This copy was well maintained, with due bills, nt, it does not fail me once! No special fault except some false electrical contacts in the cabin but nothing too bad for a grandma who has more than 20 years.

No fault in my opinion on this model, some drawbacks which are an integral part of the charm of the car (pedal shifts, low visibility, hard steering ...) but I have taken the car knowing it and all these little things make me love it even more!
Franck : Can you tell us about the costs involved for a normal use of the Ferrari 348?

Matmatlr : It takes about € 800 for an annual service by a specialized independent. The major revision is to be carried out every four years and costs between 4500 and 6000 euros depending on what you want to change. It's the opportunity to repair the water pump and, as the engine is out, we replace what needs to be replaced

Consumable prices are very reasonable for a sports car. The tires are however a little more complicated to find but no problem if you search a little in advance.

For these two years with it, my feedback does not really reflect what it would have cost me because, being quite picky, I changed a lot of things during the first year (repair of interior plastics, refurbishment of interior leather, back to the original configuration, work impacts, catalyst replacement by TubiStyle tubes, new relays for window motors, etc.)

All these points were absolutely not mandatory therefore to be considered as optional costs. For now, if we only consider the "mandatory" costs, it's € 1,600 for 2 years. Everything added, I spent € 13.000 for a vehicle in exceptional condition.
Franck :  What advice would you give to someone wanting to buy a Ferrari 348?

Matmatlr : First, to hurry because the fine examples are becoming increasingly rare! Then look for a car well attended by a specialist, with its bills. Please do not focus on the mileage that is secondary in my view. And do not hesitate to be accompanied by an expert so as not to miss out certain defects.
Do not neglect the future maintenance as these are models which deserve special attention given their age. But do not listen to everything you hear about the reliability of Ferrari, which is absolutely not justified!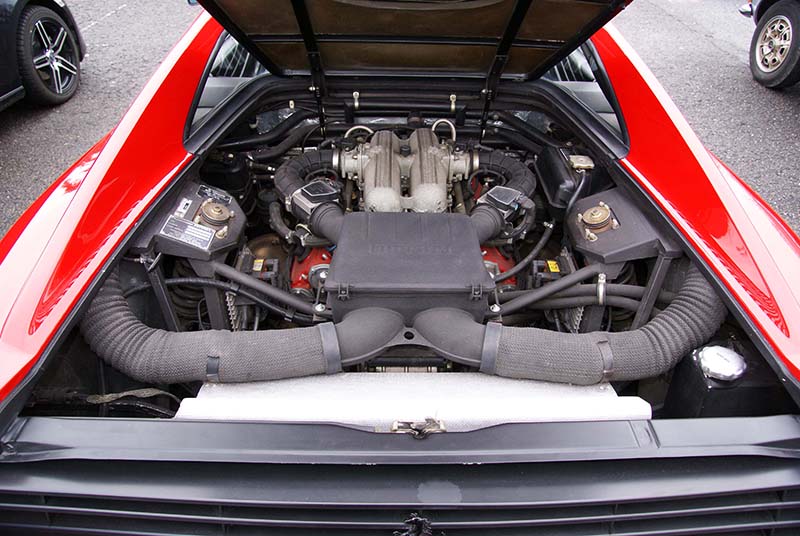 A big THANK YOU to Matmatlr for sharing all this information! Do you have any further questions on the Ferrari 348? In this case, leave a comment, and also if you have a Ferrari 348 and want to add some precision.
If you liked this article, you may also like:
- Do not miss those 21 Ferrari at Retromobile 2016
- Tighten the leather of the airbag of your Ferrari in 5 steps by PhilM
- Ferrari 308 and 328 buying guide : the various versions (1/3)
---
Report Record