After these periods of confinement and pandemic, it feels great to come back to Rétromobile! Fewer exhibitors, return to a smaller space, was the show going to keep its promises or mark a change in trend? What were the beautiful Ferraris not to be missed on the spot, because they are rare to see otherwise? What was this Retromobile 2022 vintage worth?
First there was the Artcurial sale with the four Ferrari hypercars: the Ferrari F40, the Ferrari F50, the Ferrari Enzo and the Ferrari LaFerrari! They were accompanied by a Ferrari 599 GTO!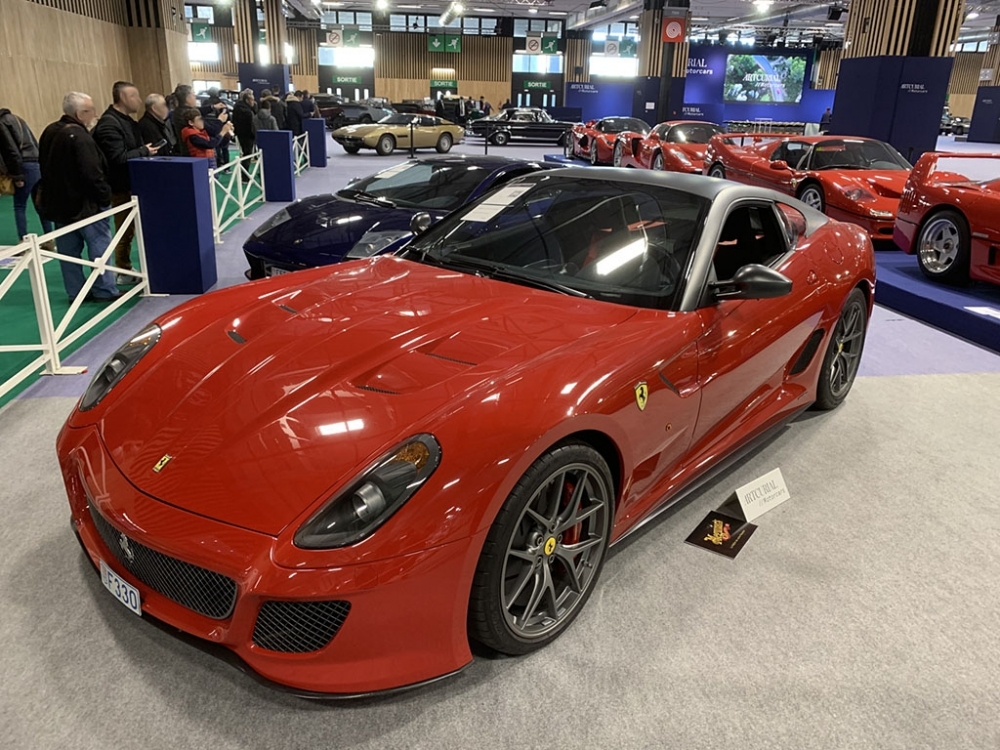 These Ferraris went up for auction for the following amounts:
- Ferrari F40 from 1989 #80761 : 2.102.400 €
- Ferrari F50 from 1996 #105265 : 4.161.600 €
- Ferrari Enzo from 2003 #132053 : 2.846.000 €
- Ferrari LaFerrari from 2013 #199747 : 2.714.440 €
- Ferrari 599 GTO #173816 : 774.800 €
In old and rare Ferraris, Atelier des Coteaux presented a Ferrari 212 Inter Spider Vignale. Out of 80 examples of Ferrari 212 produced between 1951 and 1953, only 7 examples of Spider were made by Vignale.
This example, chassis #0125EL, has a special history. In May 1951, this chassis was used by the Ferrari factory to finalize the tests of the model, in the form of a coupé. In August 1951, Vignale rebuilt it as a spider. Of the 7 existing examples, it is probably the only one to have 3 carburettors. Indeed the Inter configurations were road models, equipped with a single twin-barrel carburetor, while the Export configurations were intended for competition with 3 carburetors (optional for Inter models).
In 1987, the Italian coachbuilder Dino Cognolatto acquired it and transformed it into a racing berlinetta. The current owner bought it in this configuration from DK Engineering in 2015, who called it back a few months later to announce that they had found the original #0125EL bodywork! It was then fully restored.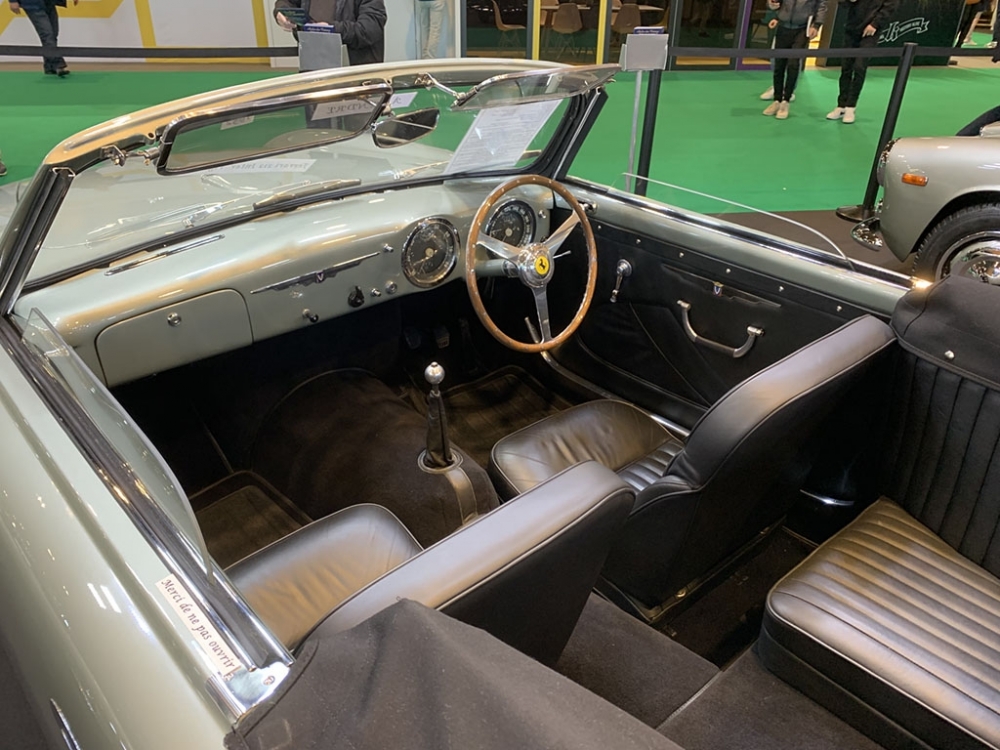 On the common stand between Eleven Cars and Guickas GTC, only Ferrari! Starting with a beautiful Ferrari Daytona :
And an interior to which she gave her name for decades to come:
Behind her, a magnificent blue Ferrari 550 Maranello:
With a magnificent beige interior, in very good condition, and the associated suitcases:
The Ferrari 312 PB, which raced in Sport Prototypes from 1971 to 1973, with the V12 of the Formula 1 Ferrari 312:
The Ferrari 512 BB #24127 Pozzi "THOMSON" n°88 :
The Ferrari 365 GTB/4 Michelotti NART Spyder #15965, entered by Luigi Chinetti in the 1975 24 Hours of Le Mans, and powered by a 4390 cc V12, developing 352 hp at 7500 rpm:
A very beautiful Ferrari 365 GT 2+2, presented in 1966 and designed by Pininfarina:
On the stand of Historic Cars, a beautiful Ferrari 250 GT Pininfarina S2 from 1959, dark blue in color. Originally, #1629GT was painted "Nero Tropicale", with a "Verde" interior. Color changed during its restoration.
The only Ferrari 250 GT SWB present this year was on the stand of Speed 8 Classics in a beautiful Rosso Corsa livery, with a blue fabric interior, together with beautiful De Tomaso, Bizzarini and Iso:
On the stand of Cecil Cars, a Ferrari 250 GTE gray red interior completely restored: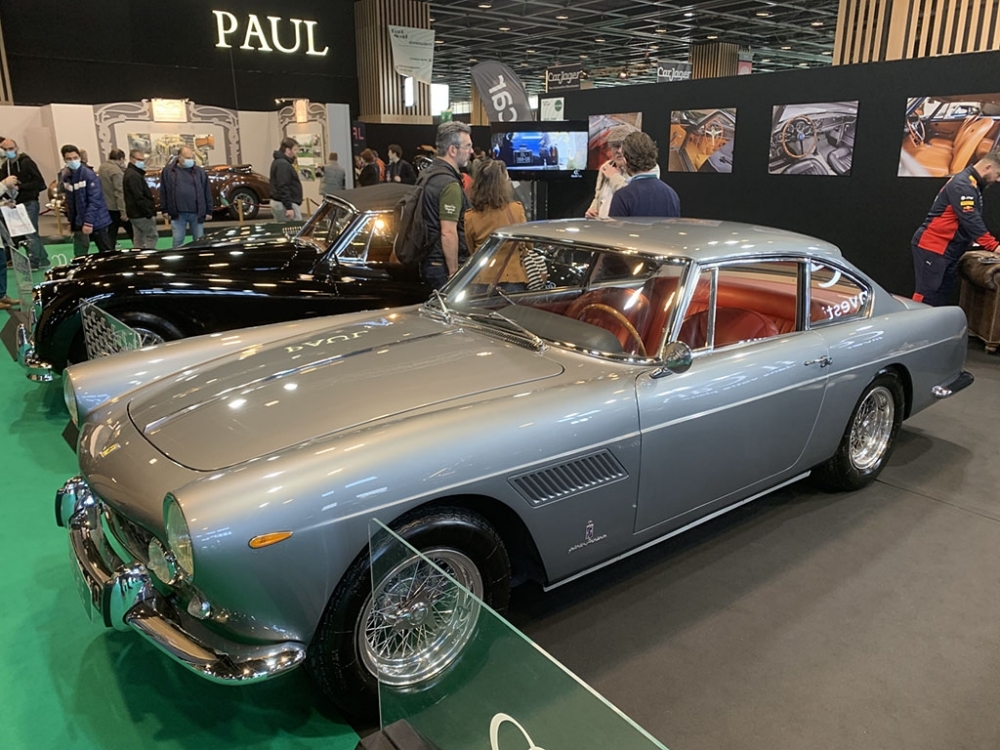 On the stand of Sport et Collection, two red Ferraris were present: a rare Ferrari 500 SuperFast and a Ferrari 275 GTB :
On the stand of Oldtimerfarm, the very beautiful Ferrari 328 GTS black of a well-known member of Ferrarista. This example dates from 1987 and the Ferrarista sticker is clearly visible at the bottom of the windshield:
On the same stand was also offered a beautiful Ferrari Testarossa blue for 200,000 euros:
At Franco Lambo, A beautiful Ferrari 330 GT serie 2 (thus round headlights in front) blue, of French origin, and with many specificities, including a Cioccolato interior, with soft leather and a specific dashboard.
On the same stand, you could admire a beautiful Ferrari BB 512 gray with a red interior:
On the stand of the insurer AON, a magnificent and blue Ferrari 365 GT4 BB:
On the Osenat auction house stand, a beautiful Ferrari 330 GT serie 1 "four eyes" :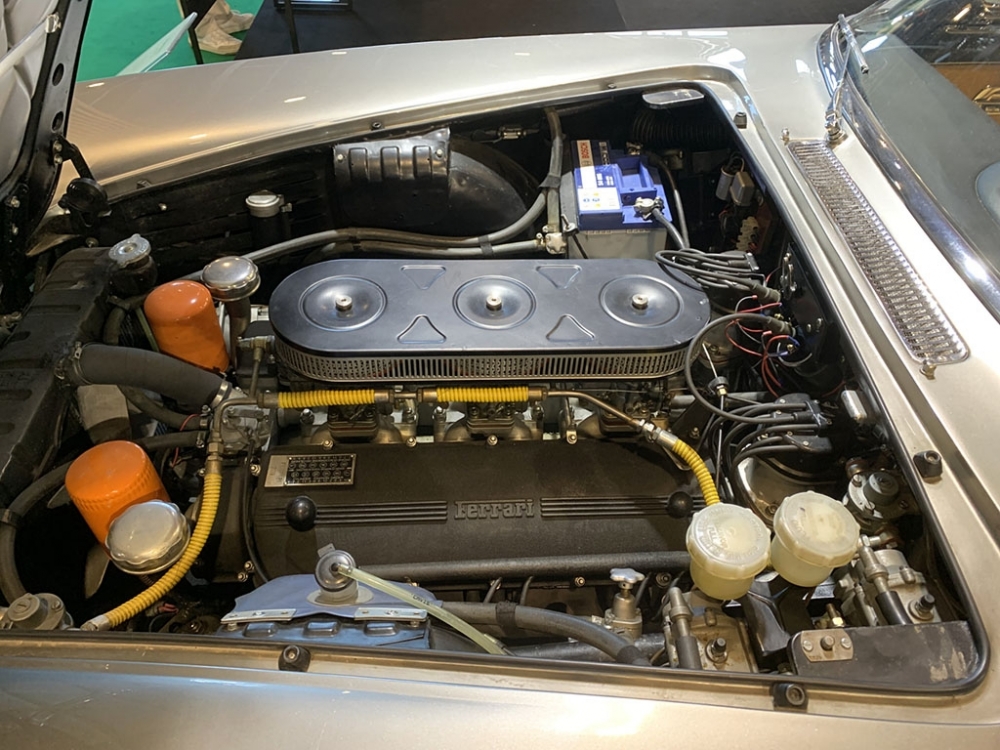 German society Messina Classics presented a beautiful Ferrari 275 GTB/2 from 1966:
a beautiful Ferrari Mondial T Cabriolet, blue tan interior, on the stand of My Classic Car Life:
And a Ferrari 400 on the stand of Catawiki :
Relatively small stand for the Charles Pozzi dealership, but who attracted attention thanks to a Ferrari F40 with all its openings deployed, to promote Ferrari Classiche:
In the end, many beautiful cars to see, in a smaller show, despite the absence of the usual big foreign sellers and manufacturers. The crowd was also smaller, apparently, because on Sunday morning it was easy to get around. It remains to be seen how this show will evolve in the years to come, but Rétromobile remains an excellent way to see exceptional vehicles and to (re)immerse yourself in the history of the brands.
Have you been to visit Retromobile 2022? What did you think of it? Which models have impressed you the most? If not, which models impressed you the most in this article? Which ones would you like more information on?
If you liked this article, you may also like
- Retromobile 2018: what trends for Ferrari?
- 50 Ferrarista members at the 70th anniversary of Ferrari in Maranello
Edited by Franck
---
1
Report Record