The Ferrari 348 is sought after as a first Ferrari, for its relatively low cost, its look of a small Ferrari Testarossa, but also for its modernity, while avoiding any electronic aid. It is an accessible Ferrari but it is also its weak point: maintenance could have been neglected, because the maintenance costs remain those of a Ferrari. Finding a good copy then requires you to be even better informed. How do you know if the maintenance has been done? If the copy is in good condition? What to watch? What are the known issues? The best is to check with the owners. @Glyde is pleased to give us his feedback, with his Ferrari 348 TB that he has owned since 2014.
@Franck: What is your automotive background?
@Glyde: I have loved cars since I was a kid. I was born in 1966, as the name of a famous road. At that time, we could experience the nascent passion of a whole generation of young drivers, on the way to progress according to the various and numerous possibilities of that time: Elf steering wheel, Formula Ford, Renault, F3, F2, etc. Motorsport was booming at the time and we can even say that a lot was done to find and train young talents. Moreover, in the eyes of the general public, it also represented a certain freedom of action and one was far from the current ecological sarcasms vis-à-vis the automobile. Right or wrong.
It was in this atmosphere that my first automotive emotions were forged in me. My parents didn't hesitate to take me to the car circuits when I was barely 6 months old. On the Linas-Montlhéry circuit, there were races almost every weekend, and we had family very close to the circuit. My uncles even managed to "infiltrate" the grounds of the road circuit while Alfa Romeo was conducting private tests there! In short, a good time, and at the age of 2 my favorite costume was a pilot's outfit.
The Ferrari passion came the day I saw one. Finally seen, of course, my height, relative to my age, did not allow me to see her as she passed in the street. But I heard my uncle cry out, "Oh a Ferrari! ". In the evening, in my room, I then took all my little cars and turned them all over to read the marks and finally hold one in my hands! And yes, I already had a Ferrari, like almost all the little boys back then.
This is how my passion for this brand was born. I documented myself, I learned the history, the stories, the models, in short all the publications and the miniatures relating to the brand captivated me. My holy grail at the time was to be able to buy the two volumes of Antoine Prunet (Ferrari of roads and dreams, Ferrari of sports and prototypes). And then very young, we make a promise full of hope: "One day I will have one!" ". Like a goal in life because it is so inaccessible. Then when I became an adult and financially responsible, it was time to build my family, but always in mind this idea of a child.
My first old car was my grandfather's Opel Kadett B Olympia, which I put back on the road. Then my very modest means allowed me to buy my first "sports car", an R5 Alpine Turbo. These cars are still in my possession. This R5 was coursed but it still lacked a little power. I bought all the parts or had the mobile unit redone at the Ferry workshops. So I have a real Ferry engine on this car, developing 140 hp at best, instead of the original 110.
Then a Renault 5 sports fan, my goal was to own, in addition to this Alpine Turbo, an R5 Alpine and the holy grail of the Renault 5 Turbo. I found an R5 Alpine called Atmo in excellent condition, then I went looking for a Renault 5 Turbo in the early 2000s. The expected budget was in the order of 10 to 13 k €, for a car. rolling and in very good condition. We were very far from the current coasts! I almost bought one for 8,500 €, but to restart completely and put back in civilian version. I went to see the car in the depths of Brittany and we did not come to an agreement with the seller for 500 €. When I returned home, a large part of this budget urgently had to be absorbed by replacing the home boiler.
Much later I was lucky enough to own one for a few months because I couldn't keep everything, and in 2017 this car was a big investment. Bought from a friend, the car had not started since 2008. A big restart carried out by myself and the injection revised by a specialist indicated by a member of the Ferrarista forum ( @Eric77), I resolved myself to resell it, because that was among other things the objective during the purchase. In a way, Wheeler Dealer at my level!
Over time, I saw the trade-in value of these cars grow beyond my savings. I decided to do it again differently, by buying an Alpine V6 Turbo from a popular auction site, with a little mileage but € 3,000 to € 4,000 below the market. The car needed some attention but was an excellent base for restoration. Decision and bid lifted, I go with a friend to look for the beast near Longwy. This GT finally remained in my garage for 7 years, from 2007 to January 2014. A real 2 + 2, practical for our family trips with my 2 children, and then reliable from the moment you respect the mechanics.
@Franck: Why did you choose this Ferrari 348 afterwards?
@Glyde: This idea of owning a Ferrari was still running through my head. In the meantime the car book shelves had filled up well as were the miniature display cases. It was during our change of residence that I announced to my wife that I wanted to reserve a certain budget which, plus the sale of this Alpine GTA, would finally allow me to make this dream come true.
I was studying the market then. My focus was on a Ferrari 308 GTB carbu or Quattrovalvole. The prices of these cars hovered between 25 and 30 k €, depending on the condition and other characteristics. It was before the bubble of the 2015s. The Alpine with its original 157,000 kilometers took a long time to sell, but it found an enthusiast, with whom I am still in contact, and this car delights its family. also since February 2014.
Then the doors of Ferrari opened to me. But the prices of a Ferrari 308 were skyrocketing and history repeating itself, my savings were still insufficient to access a 308, except in injection, which did not suit me at all. I then looked at the Ferrari 308 GT4 or Mondial, but without real and great convictions.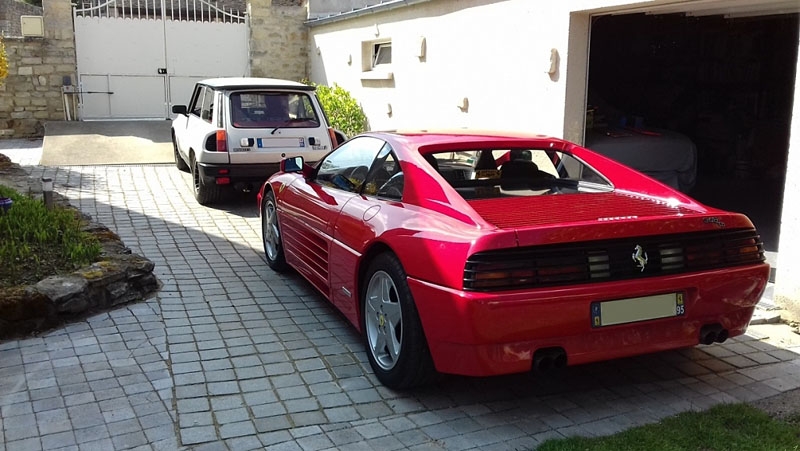 That's when I got interested in the Ferrari 348, which I admit never appealed to me when it first came out. A line that seemed bland to me compared to the sensual curves of the Ferrari 308 and 328. Perhaps also this incredible and unfounded feeling that it had come out too quickly after the disappearance of the Commandatore. In short, this model did not mark me, and yet! By studying its technical characteristics, it corresponded in all points to what I was looking for, with a few more, such as the longitudinal position of the engine, a dry sump, sufficient power, then finally an attractive line, racy, and all in all very Ferrari in blade.
It was part of my specifications to be able to take care of the maintenance on my own. Apart from owning these cars, I also like to maintain them and build them on my own, firstly for economic reasons, then also to understand and know the mechanics of the car I drive. I assure you that many breakdowns are avoided, as long as you are interested and find simple small improvements that make a car more reliable.
The Ferrari 348, in terms of maintenance, is known for its high costs. So I studied this aspect and consulted several specialists to determine an average cost of use. So I began to search. I subscribed to several forums including obviously Ferrarista. But I have to admit that I was very discreet at the start, because not having a Ferrari, I did not allow myself to participate.
I went through the ads, I compared the offers, I visited the specialists to see the few cars on sale. I want to stress that this step seems fundamentally essential to me, as with real estate, it sharpens our opinion, what we want and what we don't want.
It was on May 1, 2014 that I was picked up for my Ferrari 348, without seeing it firsthand. My ambition was right in this choice and the 500 kilometers of the return trip did not scare me. The moment of discovery was even more magical because the salesman left it to me to remove the protective cover and discover this car inch by inch. I also own a 1973 Mini 1000.
@Franck: What is your use with this Ferrari?
@Glyde: I use this car sporadically:
- For short Sunday walks, alone or with other enthusiasts,
- To go to certain events (LMC, etc.),
- For weekends with my wife, who has endured this passion since we have known each other, we even went on vacation with this car,
- And of course the greatest moment I spent in and behind the wheel of this Ferrari was taking part in the incredible Ferrarista trip to Maranello in 2018.
@Franck: Since when ?
@Glyde: Since May 1, 2014. The history of this model is unique. It was delivered new by the PAGANI Frères concession in Marseille to an inhabitant of Cassis on 07/30/1990. This first owner kept it for 10 years and traveled just under 40,000 kilometers with it, before replacing it with another model. Sold by the same dealer to a Swedish collector who owned a castle and an enormous collection of automobiles in the Lot, it remained there for a little less than 10 years. It was maintained by the mechanics in charge of this fabulous collection of more than 100 cars.
Bought by an enthusiast in 2009 with 47,000 kilometers, it has kept it for 5 years and 2,700 kilometers of asphalt on the roads of Limousin. It was this last owner who contacted me when I posted a message on a forum about my intention to buy and things to watch out for about this model. My message ended with "if you are a seller of this model, please do not hesitate to contact me ...". It was then following an exchange of detailed emails and embellished with many photos, and other documents, that we found an agreement, having never seen this car, nor tried, before May 1 when I took the road at 5 a.m. in the morning to pick up this 348.
@Franck: What were your criteria for buying this Ferrari and how did you find this copy?
@Glyde: My purchasing criteria were varied:
- A berlinetta, so Ferrari 348 TB exclusively,
- Respect of the budget devoted to the purchase. I didn't want to deviate too much from it, so that I had a reserve in case of the unexpected. So I forbade myself GTB versions,
- That the car be complete and as close as possible to the origin, or even to the absolute origin,
- Preferably a car of French origin,
- Updated revision and in perfect working order,
- A car pampered by its owner (s),
- A consistent history in terms of the interviews carried out. These models are too old to hope for traceability in the network, especially since since its marketing, the network has evolved greatly. The dealership that delivered this copy no longer exists today.
@Franck: Immediately after the purchase, what did you like the most about driving this Ferrari?
@Glyde: Its driveability, known to be hard to use, the 348 struck me as pleasant over the long haul, with 500 kilometers to return from Limoges at the wheel. And above all, it should not be forgotten, my last reference in terms of sports cars was my Alpine V6 Turbo. It has a much more rigorous behavior in all respects, real effective brakes, a firm car but delicious to drive, a reserve and a surprising power extension.
The sympathy of people crossed here and there, the astonishment also of some because, on the return trip, on a motorway rest area, to see a family station wagon with the cooler in it and the Ferrari next to it during the picnic on the road. grass surprised more than one !!!!
@Franck: Can you tell us about the costs incurred for normal use of this Ferrari (insurance, annual maintenance, major overhaul, unforeseen events, etc.)?
@Glyde: I am poorly placed to provide real information on this point. Since the beginnings of this project, I had opted to take on the maintenance myself. Certainly with a reservation all the same. But the passion having been transmitted to my son, he chose competition mechanics as his profession. So his knowledge gave me comfort in this choice, since he maintains a lot of Ferraris, including several from the forum.
We carried out the "big overhaul" in 2017, the main investment was the purchase of a lift. The total of the coins is around € 2,500, I did not count the MO. We removed the engine on December 30, 2016 and restarted the car at the end of March 2017.
However, certain operations have been entrusted to specialists, such as the replacement of tires, the geometry of the running gear, engine adjustment on the bench.
Regarding insurance, my Ferrari 348 is insured in a collection with theft options (depending on appraisal value, it has been appraised for 83k €), fire, broken glass for around 510 € / year. The first year I only had the RC collection which is 100 € / year. It is therefore not a prohibitive expense item.
@Franck: And if it had to be done again, what would you change?
@Glyde: My answer is very simple: Nothing, I have no regrets through this experience. But I admit I was very lucky, and then there is this famous intuition in front of the car, intuition which tells us "It's her ...".
Why I love my Ferrari 348 so much:
- It is the last Ferrari equipped with the legendary grid with the first at the bottom left,
- It has no driving assistance except ABS,
- Its firm direction keeps great precision and brings back a lot of valuable information to its driving
- She drives with the driver's full attention and you have to, as some pilots say, "drive her with your buttocks",
- Its modest power compared to more modern productions is more than enough to extract the quintessence,
- The roof line strangely resembles the F40, just like its mirrors a little less prominent all the same,
- The extension of its engine is incredible.
- Its behavior combines both relative comfort on long journeys (the journey from Paris to Maranello and its 1,093 kilometers have convinced me), and sportiness in more sustained driving,
- Its consumption, even if this is not a criterion, does not put off with use: around 10L / 100 km in smooth driving ... and much more if you tickle the switch
This is what a 348 is ...
@Franck: What advice would you give to someone looking for this Ferrari?
@Glyde: As with many important decisions, take your time, see several copies, learn more and more.
Do not blindly buy the first car that comes along, which is not my case even though it was not the first I saw.
@Franck: What are its faults? What to pay attention to?
@Glyde: The Ferrari 348 or rather its image suffered from several bad reviews in the year of its launch, including by Luca di Montezemolo on the lack of engine power.
His behavior is not bad, it's just rigorous, very rigorous. This Ferrari does not drive like a 328, it sits like a kart. You need a lot of vigilance at the wheel when you force the pace a little, she does not forgive the roughly, both in her driving and in the monitoring of sensitive points, tire wear, air pressure , monitoring of levels and of course warming up before intensive use (this is valid for all mechanics!)
Moreover, with this model was born the "Ferrari Challenge", a minimalist kit offered by the factory and adaptable to production models, including TS. The first year of the challenge, it even seems to me that the cars were running on the standard tires!
@Franck: What improvements can be done?
@Glyde: I am convinced that all improvements must be made in making the car more reliable. Regarding the 348, as long as the mechanics are sound and regularly maintained, the modifications are minimal. There are known failures in the electrical wiring, personally I adapted a starter relay which greatly facilitated the wake-up of the 8 cylinders. Likewise, I encountered some problems with the original circuit breaker socket, this was solved by removing this socket and replacing the engine and chassis earth cables which pass under the exhaust manifold. My Ferrari 348 being of the first generation, the battery is installed in the rear left, which is very nice to connect the charge maintenance.
I also replaced the original silencer (permanently stored) with a stainless steel model. The vocalizations of 3.4 are doing better. Likewise, I cannot say whether or not this copy was catalyzed during its manufacture, developments being quite vague on the assembly lines. In any case, if there were catastrophes, it was before ...
My concerns relate to the choice of future tires because the elements approved by the factory are no longer available, so we must focus on new generation tires but not easy to choose given the 17/18 fit and the behavior of the car.
@Franck: How do you use Ferrarista for your experience with your Ferrari? What does the Ferrarista community bring you?
@Glyde:  By exchanging tips and advice, by tasting to learn new technical information or not, on this model as on others.
Ferrarista is a huge source of information about the brand, about models, about owner feedback, about meeting other people, about this incredible community of enthusiasts. Everyone contributes a stone to the building, some are very sharp on historical facts or certain models, others share their driving experience, still others quite simply share with us their daily life as an employee at Ferrari (and of having had the chance to meet them in 2018 at the factory).
I have met a lot of very nice people. I interact with members on a regular basis without seeing each other first-hand. No judgment, general benevolence, some have opened their homes or rather their garage to me, even before meeting elsewhere, if only to admire their cars and in the greatest and natural simplicity. This sharing of passion is fundamental. You only need to attend a Ferrarista event to realize this. In the end, everyone asks for more and there is no differentiating between members.
@Franck: Thank you @Glyde for this very interesting feedback, with this detailed history which allows you to project yourself as a future buyer of this model. What other questions would you like to ask @Glyde? If you own a Ferrari 348, what elements would you find interesting to add for those who are interested in this model?
If this article appeals to you, you may also like:
- Long term test: Guillaume84's Ferrari F430
- Ferrari 308 and 328 buying guide
- Long term test: Matmatlr's Ferrari 348
---
Report Record