The Ferrari Mondial is highly sought after by Ferrari enthusiasts who want to enjoy their Ferrari with their family for a budget, which can remain reasonable compared to other Ferraris. Produced by Ferrari from 1980 to 1993, four models succeeded: The Ferrari Mondial 8, the Ferrari Mondial Quattrovalvole, the Ferrari Mondial 3.2 and the Ferrari Mondial T. Which one to choose? What experience to expect behind the wheel? For what costs? What weak points to watch out for? @XAV88 talks to you in detail about his experience with his Ferrari Mondial 3.2 which has been owned for over 7 years.
@Franck: What is your automotive background and why did you choose this Ferrari?
@XAV88: Since my early childhood, I have been passionate about the automobile in general and motor racing in particular. I admired a neighbor who raced regionally and also owned a Ferrari 308 GT4 as a hobby car. For me, he was really a hero and I dreamed of doing the same.
As a result, I first competed with a Renault Clio Group A, in hill climbs and the French Circuit Cup, then I decided to stop and I bought Porsches, which are more accessible, dreaming of Ferrari. And I decided to sell my 911 to take the plunge and buy the Ferrari 308 GT4 of my dreams. I went to see two of them but their condition did not inspire me. I finally decided to take an interest in the Ferrari Mondial which, at first, I liked less, but which I found more and more beautiful as I became interested in it.
So I bought my first Ferrari, a Mondial T, which I got rid of at a loss after a very short time, following several breakdowns and quite a few expenses. It was, however, a superb first hand with 34,000 km from new, but it had been driven too little in recent years.
At the time, I told myself that I would only buy a Ferrari when I could afford a new one, but seven years ago, when I saw a Ferrari Mondial on the street, I completely fell in love with its quirky faux Berlinette look and decided I absolutely needed one.
 
I absolutely wanted a 3.2 because I don't really like the black bumpers of the previous models and because I no longer wanted Ferrari Mondial T, because of my bad experience, but also because they are more expensive to maintain, due to the obligation to remove the engine at each major overhaul. So I bought a Ferrari Mondial 3.2 which I am very happy with.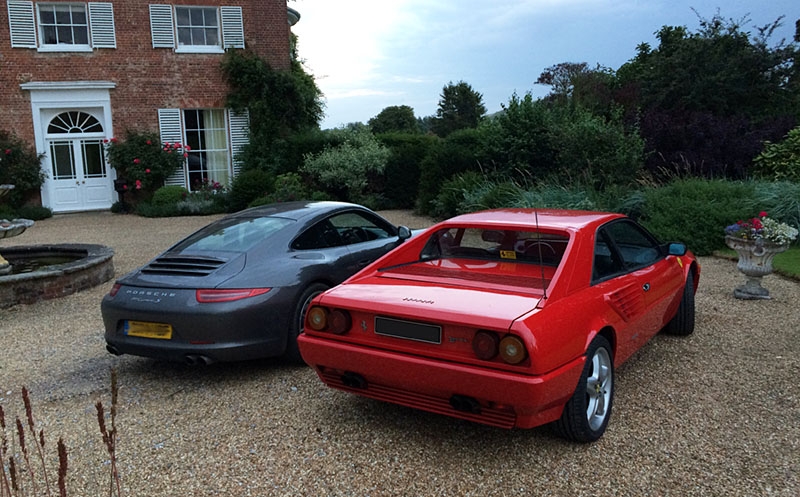 @Franck: What is your use of it? Since when ?
@XAV88: My use is purely recreational. I participate in the many Sunday morning outings that exist in the Paris region. I also went several times to Le Mans with, and even to England, to one of my sisters who lives there. Thanks to the rear seats of the Ferrari Mondial, I was able to make the trip with my two children.
I also had the opportunity to drive on the Montlhéry circuit during the Italian Meeting. Basically, I just wanted to do a few laps to see but I had so much fun that I ended up doing more than 100 kilometers of circuit at the end of the day. I think I enjoyed it more than with other theoretically more track-focused cars I've owned before, such as my Hommell or my track-equipped Porsche 911 SC.
@Franck: What were your purchase criteria for this Ferrari and how did you find this copy?
@XAV88: I had the classic criteria of a Ferrari buyer when I was looking for this one. I wanted the most complete history and a car of European origin without traces of accident.
But it turns out that I particularly liked this one. I had already spotted it a few years before and I had flashed on its modifications, whereas paradoxically I am rather a purist and normally prefer an entirely original car. But I wanted it and went to get it in the east of France, after I have had it checked by the Ferrari dealership in Mulhouse to validate its condition.
 
@Franck: Immediately after the purchase, what struck you the most at the wheel of this Ferrari
@XAV88: I appreciated its fairly versatile and easy to drive side. It was equipped with a QuickSilver exhaust by its previous owner which adds a sporty tone but is not tiring on long journeys and it is very pleasant.
@Franck: Can you tell us about the costs incurred for normal use of this Ferrari (insurance, annual maintenance, major overhaul, contingencies, etc.)?
@XAV88: The car is insured in collection with AMV for just over 500 euros for all risks and the running costs are not excessive due to accessibility. In 7 years, I did 2 major overhauls which cost me less than 2,000 euros each, and otherwise simple oil changes and a few odds and ends. I had no unforeseen events.
@Franck: Et si c'était à refaire, que changerais-tu ? Quels conseils donnerais-tu à quelqu'un recherchant cette Ferrari ? Quels sont ses défauts ? Une attention quoi faire ? Quelles améliorations peuvent être à prévoir 
@XAV88: I don't think I would change much since I didn't have any bad surprises with my Ferrari Mondial. I think a Ferrari Mondial 3.2 has no major flaws. On the first Ferrari Mondial, there are sometimes electrical faults which appear in some cases to change the fuse box but the more recent the models, the less frequent these problems are.
The only downside compared to a Ferrari Mondial Test is the lack of power steering. But personally I like the feeling of being one with the car. On the other hand, the slots propel a little force, especially on mine equipped with wider tires.
@Franck: How do you use Ferrarista for your experience with your Ferrari? What does the Ferrarista community bring you?
@XAV88: The Ferrarista community brings me a lot. This allows you to have a lot of technical information because there are very good connoisseurs and it allows you to find people for the meetings.

I remember that during a meeting at Le Mans Classic, I heard a metallic noise that worried me. A member ( @33manu not to mention him) had inspected my car at length and concluded that there was no problem and that the noise was coming from my air conditioning. This had allowed me to end the weekend peacefully and the problem had been solved the following week with a simple air conditioning recharge.
 
So thank you to you @Franck for bringing this friendly community to life, which allows us to use our beauties more serenely and to share our pleasure with other enthusiasts.
@Franck: Thank you @XAV88 for your very informative feedback with your Ferrari Mondial 3.2! 
If you also own a Ferrari Mondial, what additional advice would you give to someone interested in this Ferrari model? What is your experience with your Ferrari Mondial? If you are looking for one, what other points would you like to see addressed?
If you liked this article, you may also like:
- Long term test: Mika 348's Ferrari 512 TR
- Long-term test: Glyde's Ferrari 348
- Long-term test: 20 months and 14,000 kilometers in a Ferrari 550 Maranello
---
Report Record