The Ferrari Testarossa is a myth, an icon of the 80s. The subject of strong speculation at the death of Enzo Ferrari, its poster adorned the walls of many rooms of young enthusiasts at the time. Young enthusiasts who would scale it well 1:1 in their garage today. Which model of Ferrari Testarossa to choose? What to expect behind the wheel? What are the maintenance costs for this old Ferrari? The best is to ask an owner, and precisely, @Mika 348 has owned both models, the Ferrari Testarossa and the Ferrari 512 TR so can tell you about their differences.
@Franck What is your automotive background and why did you choose this Ferrari? What is your use of it? Since when ?
@Mika 348 My first Ferrari was a Ferrari 348 GTS in 2013. Then the Ferrari F355 Berlinetta in 2014, which I still have. Then in 2019, I sold my Ferrari 348 for the 1991 Ferrari Testarossa, so with 5 nuts and 2 mirrors. In 2020 the Ferrari 512 TR replaced the 1991 Ferrari Testarossa. I also have a 1962 Austin Healey that I completely rebuilt. 3 and a half years of work!
The Ferrari Testarossa is first and foremost its line. Impressive. And then it's his engine. A couple / a sound. We always have the feeling that he does not force. Even at 7000 rpm, it feels easy, without forcing, that it still has a huge margin.
My use is 100% geared towards weekend outings, ride mode, pleasure. A privileged moment that makes me forget everything for thirty minutes, a day, a weekend.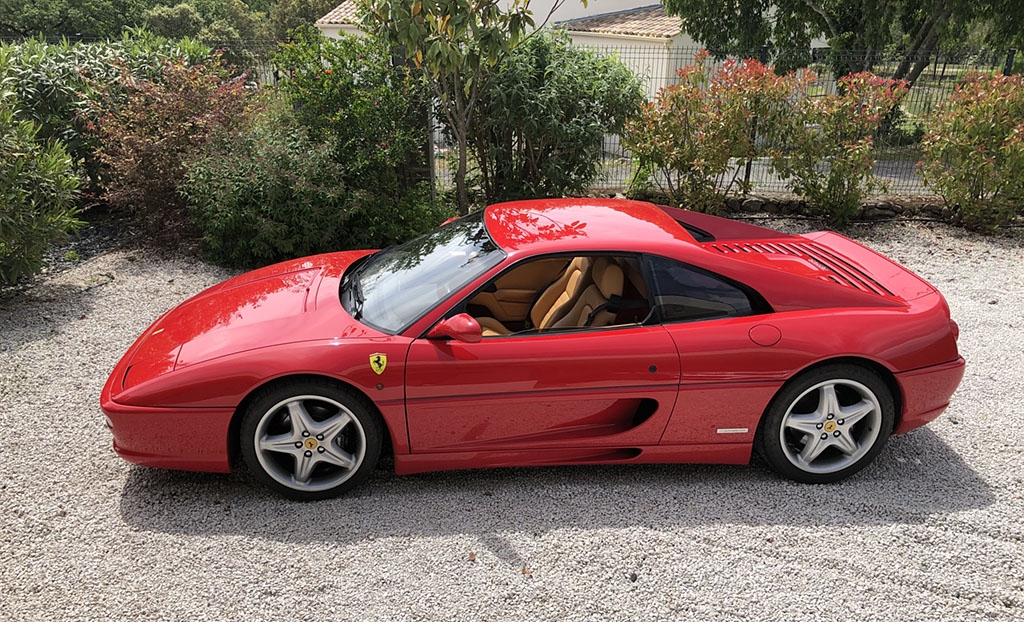 @Franck What were your purchase criteria for this Ferrari and how did you find this copy?
@Mika 348 For the Ferrari Testarossa, it was with a tracking, a history. I don't mind having to take it to a professional for work, but I want to know what has been done to the car since new and therefore deduce what remains to be done. That goes for any Ferrari for that matter.
I found it at De Widhem Automobiles in Paris . It had 27,000 kilometres. it had its notebook, a history. it was going to Fiorano Racing before delivery for a review and various checks. So I was quite reassured. The price was right for the time.

@Franck Immediately after the purchase, what struck you the most at the wheel of this Ferrari?
@Mika 348 Immediately, after a few kilometers I thought that she did not have the physique of her use. It's a GT with a supercar physique. That's what makes it interesting. GTs are often discreet (Ferrari 550, Ferrari 412, etc.), this one is exuberant.
Then comes the total pleasure of feeling these 12 atmospheric cylinders push, with their atypical sound, all with the manual gear lever. I'm daydreaming!

@Franck Can you tell us about the costs incurred for normal use of this Ferrari (insurance, annual maintenance, major overhaul, contingencies, etc.)?
@Mika 348 Insurance: 850€ per year, in all risks, at Allianz, but I insure 3 cars so that plays a little.
Revision every 18 months: around 750€
Distribution every 6 years: approximately €6,500
Tyres: €1,200 for 4
The weak points of the Ferrari Testarossa:
1/ The differential block: it cracks according to use and in any case because of its alloy. You have to fix it before it breaks. On the Ferrari Testarossa, I did not have time to do it but on my Ferrari 512 TR it was done as a preventive measure by Toni Auto in Maranello (€2,500 the intervention).
2/Gearbox sprockets: they wear out in 1/2/3 ratios due to the enormous torque passing through them. The wear obviously depends on the user. It's 1,500€ per sprocket but that's not necessarily a problem. It is related to the use made of the car.
3/ The electric plate: it is imperative to send it to a specialist to make it reliable. The intensity passing through it is too high and, even with 27,000 kilometres, you can see that the lugs are blackened and the electrical problems then follow in a cascade, with power cuts: fuel pumps, ignition coil, fans , etc

@Franck And if you had to do it over again, what would you change? What advice would you give to someone looking for this Ferrari?
@Mika 348 First thing would be to take a car that drives regularly. We say it all the time but in the end I succumbed to the siren songs with this 27,000 kilometers Ferrari Testarossa and finally I spent my time correcting and controlling what had not been done by my predecessor, who drove too little. In particular, the electrical problems that I spent my time getting repaired.
This one-year adventure in a Ferrari Testarossa allowed me to have certainties:
1/ I love this unique and extraordinary line. Ferrari Testarossa and Ferrari 512 TR. I have a hard time not to say that I don't like the Ferrari 512 M which loses all the original design of the Ferrari Testarossa.
2/ Its engine, by its torque and its sound, is a Holy Grail that I want to keep.
3/ The Ferrari Testarossa doesn't brake, it slows down. This is because of its 16-inch wheels which cannot accommodate large discs and therefore beware of emergency braking!
4/ The Ferrari Testarossa drives like a GT and it's hard to exploit its monster heart because of its stiffness and braking.
So I drew the conclusion that became obvious: buy the Ferrari 512 TR! This is the best Ferrari Testarossa in my opinion. We keep the extraordinary line of the Ferrari Testarossa, with a few details: front and rear bumpers, body-coloured sills, design and size of the rims, design of the interior cabin.

We sublimate the road behavior. It's not the same car to drive. The 12-cylinder gives even more from low revs and even higher in the towers. Always with this impression of never forcing.
The chassis is welded and no longer bolted, which makes the body much more rigid. The 18-inch wheels can house large perforated disc brakes, which makes it possible to slow down this time. The center of gravity of the TR is lower which allows it to have, in addition to the welded chassis, a much better handling in curves. The TR's seats and steering wheel are top notch. We sit lower than in the Ferrari Testarossa, the small steering wheel identical to that of the Ferrari 348 is perfect.
In summary, the Ferrari 512 TR is a better Ferrari Testarossa. We keep what is great about the Ferrari Testarossa and improve the weak points.

The different models of Ferrari Testarossa:
- 1984 to 1986: the highly sought-after mono-retro. Beware of TRX tires that cannot be found! And not easy to maneuver the machine with a single retro highly perched. But I must admit that it is sublime!
- 1986 to 1987: The mono-nut and 2 mirrors. Some are in TRX tires but not all. 
- From 1988, they have 2 mirrors and 5 nuts, and frankly, in use, it is the best. Affordable with available tires, easy to disassemble unlike mono nuts. Two mirrors are better for maneuvering.
The Ferrari Testarossa is the icon of the 80s. The Ferrari 512 TR keeps the DNA and becomes, for me, the last still affordable Ferrari supercar. Since the Ferrari 512TR / Testarossa, all 12 Ferrari cylinders are in the front position. The only ones with a 12 cylinder in the rear center position are overpriced cars for me: Ferrari F50, Ferrari Enzo and Ferrari LaFerrari.

@Franck  How do you use Ferrarista for your experience with your Ferrari? What does the Ferrarista community bring you?
@Mika 348 I read Ferrarista almost every day. On all types of subjects: watches, other brands, the economy, purchases / sales, presentations of new enthusiasts, outings, etc.
Ferrarista quite simply allowed me to become a Ferrari owner by desecrating this act of purchase which seemed improbable to me. The many enthusiasts are full of good advice. This exchange of experience is constant and wonderful. I met people through the outings that I enjoy seeing again on each outing. Generous, approachable, passionate, friendly, of all ages, from all walks of life...
Hoping that my feedback will help some to take the plunge!
If you own or have owned a Ferrari Testarossa, what additional elements could you bring to help future owners? If the Ferrari Testarossa interests you, what did you learn from this article and what else would you like to know? What does the Ferrari Testarossa represent for you?
If you liked this article, you may also like
- Long-term test: 20 months and 14,000 kilometers in a Ferrari 550 Maranello
- Long-term test: Ferrari F12 Berlinetta by Trois Cinquante Cinq
- Long-term test: Glyde's Ferrari 348
---
Report Record